As a homemaker, you might be busy handling important jobs like childcare, house chores and so on. But however, you may also want to earn income from the comfort of your home.
Whether you have a background in sales, marketing, or customer service, you may be able to find a rewarding position that allows you work from home. In this article, we will be discussing some potential jobs for stay at home moms, including their average salaries and the responsibilities of each.
Related: 4 Highest Paying Jobs For Lazy People
What are jobs for housewives?
Stay-at-home jobs allow you to work from home while earning a salary that help you support your family. Most of these jobs include the following features:
Flexible Hours: Instead of requiring a standard nine to five schedule , these jobs often allow employees to set their own hours. You will be able to work while your kids are napping, after bed, or while your kids are in day care.
Remote Work: Instead of requiring employees to work in an office, these jobs allow you to work from anywhere. You will be able to work from home, from a playground, or from any office of your choice.
Reasonable Compensation: These jobs provide paychecks that can help you support your family while you stay home with your children.
Listed below are the Top 10 Well Paying Jobs For Stay-at-home Moms
When you work as a stay-at-home mom, you can look for jobs in a variety of industries, from sales and marketing to finance and the arts. Here are the 10 flexible jobs to consider:
Social Media Specialist
Transcriptionist
Call center representative
Blogger
Virtual assistant
Brand Ambassador
Freelance photographer
Auditors
Tutor
Web Designer
Social Media Specialist (National average wage: N5,000 per week)
Primary Duties: Social Media Specialists create, schedule, and publish content on the social media platforms like Facebook, Instagram, Twitter etc. Some professionals specialize in some specific roles, such as writing captions, creating graphics, or programming content. Many social media specialists also handle social media engagement, which can include responding to comments, answering questions, and monitoring audience sentiment about a brand or marketing campaign.
Transcriptionist (National average wage: N5,000 per week)
Main Functions: Transcriptionists is another great job for stay-at-home moms, they transform audio files into written documents. They also listen carefully to the dictations while making sure to accurately transcribe the words and convey the meaning. As a transcriptionists, you must be able to focus for long periods and pay close attention to detail in order to produce accurate work. Many specialize in certain industries, such as health care.
Call center representative (National average wage: N6,000 per week)
Primary Duties: Call center representatives provide customer service via phone, email, or video chat. They answer questions, describe products, process payments, and provide refunds. They generally follow scripts to ensure they provide accurate and consistent information. Many call center representatives also handle customer complaints, which may require the involvement of supervisors. These professionals need excellent customer service skills and must be good listeners. Call center representatives is another lucrative job for stay-at-home moms.
Blogger (National average wage: N7,000 per week)
Main Duties: Bloggers create and publish content for websites like nanoservices, abujabuzz etc, they typically focus on a certain topic, such as design, cooking, or homeschooling. They develop content plans and editorial calendars, write and proofread articles, and take and edit photographs. Many bloggers design and update their own websites. Some also develop profiles on social networks, where they share their content and build online communities.
Virtual assistant (National average wage: N7,500 per week)
Main functions: Virtual assistants handle administrative tasks, such as answering emails and phone calls, creating and scheduling social media posts, writing content, creating graphics, and managing filing systems. They can also make appointments for their employers or make travel arrangements. Some specialize in certain tasks, such as accounting or digital design. Virtual assistants do all of their work online and can have multiple clients at once which is the major reason it is recommended for stay-at-home moms.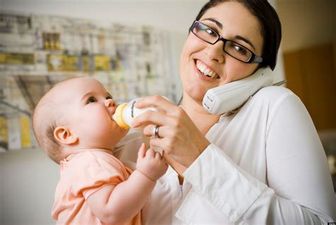 Brand Ambassador (National average wage: N7,500 per week)
Primary Roles: Brand ambassadors are marketers who represent products, services, and companies. They sell products on behalf of other companies and may receive commissions or standard rates for their work. Brand ambassadors is a great job for stay-at-home moms because their major work is online. There, they create communities on social networks or by email, and share information and images of themselves using the products or services they represent.
Freelance photographer (National average salary: N250,000 per month)
Primary Duties: Freelance photographers is another great job for stay-at-home moms but their job is not fully online. They conduct photo shoots, take photos, and edit digital files for clients. Before taking photos, they may meet with clients to determine their needs and preferred styles. After a photo shoot, they provide clients with digital files or print the photos. Many specialize in certain styles or types of people, such as maternity, newborn, wedding, or family photography.
Auditors (National average wage: N8,000 per week)
Primary Duties: This is one of the best option for stay-at-home moms. Auditors keep client's documents on financial transactions, recording costs and revenues to the correct accounts. They also process and record checks and cash. Auditors uses software to produce reports and statements, reconciling each one to confirm accuracy. They use accounting software, databases, and custom spreadsheets to do their jobs, and they must have excellent math skills and attention to detail.
Tutor (National average wage: N8,000 per hour)
Primary Duties: Tutors help students to learn concepts outside a standard classroom setting. Some tutors specialize in certain subjects, such as math or language. Others teach students how to take standardized tests more effectively. Most tutors work with individual students or small groups. Many work online, where they explain ideas and test students' knowledge. Being a tutor is an encouraging job for stay-at-home moms because they are not just helping other kids to learn, they also engage their own children to learn alongside.
Web Designer (National average wage: N10,000 per hour)
Core Duties: Web designers is one of the best lucrative job for stay-at-home moms. Web designers create websites for a wide range of industries. They talk to clients, assess requirements, and develop wireframes that shows how the final product will look and function. They use digital content management systems and computer coding languages ​​to create website elements. These professionals also implement design components such as typography, color schemes, and graphics to create an effective look.
Disclaimer
These are the top 10 well paying jobs for stay-at-home moms. Are you a mom who is tired of working under people? Are you also a full house wife who is not finding the house lively any more? Then this article is purposely for you not to get bored any more and get yourself engaged. I hope you will find this content useful and helpful.